Imagine this scenario:
You put your offer out into the world, you know it's amazing and your audience will LUV it.
So you run some ads, make some sales – but you're still losing money.
What gives?
You can see other marketers running a ton of ads to their low-priced offers, so how on earth do they keep living their incredible lifestyle, while still paying for ads?
Here's the bit you're missing from your funnel…
A high-ticket back end.
And by 'back end' I simply mean an offer made to your customer some time after they've bought your 'front end' product.
The thing is… you might even have this back end offer already. Based on a recent customer survey we ran, a lot of you are already impacting lives through coaching and mentoring.
But what you need is a systemised way of adding that into your funnel.
See, your prospects and customers are out there, searching with all their heart for someone to show them the way.
Add this into your funnel… and hey presto! You'll have all the coaching leads you want.
And your funnel can be super simple – just a few emails on a regular basis, asking people if they'd be interested in jumping on a quick call with you.
The word 'regular' is important too… because nobody reads ALL your emails. And besides, they might not be interested in coaching on day 1 – but by day 30, they could be ready to jump into their greatness with your help.
Speaking of day 1 – don't even wait for email #1 of your welcome sequence – your 'thank you page' could have a link to book a discovery call with you, filling your calendar with amazing new clients
And if you don't yet have a coaching program… it could be a brilliant way to help your audience grow into the best version of themselves, and be well paid for doing so.
Of course there's many other ways to monetize your funnel on the back end.
One of my favorites is using proven 'done-for-you' copy templates that give you everything you need to succeed…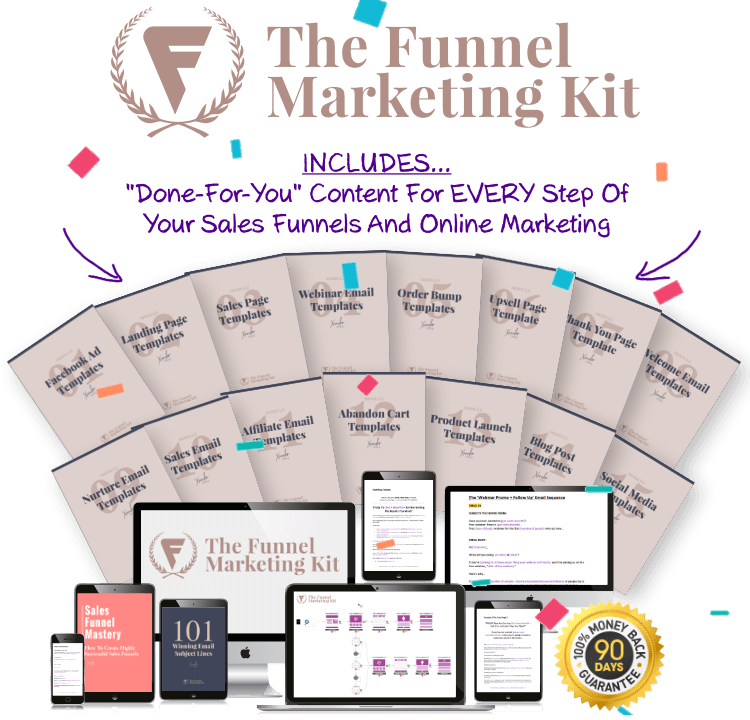 Want all the copy & content for your sales funnels done-for-you without the sky high price tag? Get The Funnel Marketing Kit here